Humour at its Best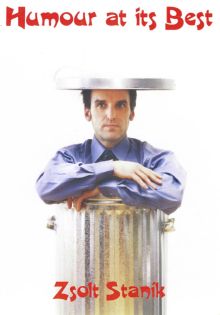 Title:
Humour at its Best
Author:
Zsolt StanĂ­k

---

Ilustrations:
Zdeněk Netopil
Cover:
Fastprint Publishing
Editor:
Louise Fichtinger/Susan Cohen-Unger
Graphical layout and typeset:
Fastprint Publishing
Publisher:
Fastprint Publishing, Peterborough, England
Language:
English
First published:
2009
ISBN:
978-184426-632-6
180 pages (printed edition)

---

Price
See purchase
>> purchase
About the book
The book consists of two parts entitled "What Comes Naturally" and "The Times They Are Changing – It Could Be Even Worse".The first is a collection of short stories and the second a retrospective look back at the monstrosity of the totalitarian regime in the former Czechoslovak Socialist Republic. For more introductory information see the respective parts of the book.
Below find please 1 extract from each part of the book:
What Comes Naturally
I waited for the English lady to be seated first. Then as I prepared to sit, I caught the glimpse of a shocked expression on her face. She screamed "eeeeh…" and stood back up rather quickly. The water from the chair had soaked into her trousers!
She asked me what I suggested she do. I came up with two possibilities; the wet clothes that were stuck to her body had to be somehow, either changed or dried. Since I was dealing with a delicate situation for a lady (especially an English lady), I was reluctant to suggest the first option (after all, she did not have extra clothes with her). So I quickly recommended the second option – drying her trousers. My recommendation basically consisted of her eating her lunch standing up with her bottom facing the sun. She quickly rejected this idea, saying that she was not used to eating like that. I immediately followed with another idea – that she take off her trousers and enjoy the lunch in her panties while her trousers dried in the sun. At first, her facial expression implied that she considered me to be some kind of a shameless weirdo. But when she finally said, "OK, let's do it," I realized this was not the case. We wished one another "Bon Appetite", but nothing happened. Then it came to me that she was hesitant to take off her trousers in front of me. As a true gentleman, however, I considered it to be ill mannered to turn my back on her. So I promised her that I would look straight into her eyes the entire time while she rid herself of the wet piece of clothing.
The Times They Are Changing – It could be even worse
Hans who had hip problems travelled to the USSR. His doctor had recommended a daily swim. He went to the municipal swimming pool. He did not see any cash-desk so he asked an elderly life-guard in the obligatory striped navy T-shirt and cap. Instead of giving him an answer he gave him a question: "Do you have permits?" "What for?" "Well, to enter the swimming pool." "Never heard of." "I don't care if you have but here you cannot go swimming without a permit." "Where can I buy such a permit?" "Buy? What nonsense. A permit is not bought it is issued." "Issued? And who will issue it? And where?" "I will issue you with a permit." "Lovely so please issue a permit to the name of Hans Hackerbocker." "Not so fast. Do you have a document confirmed by the hygiene officer that you are not suffering from a skin disease that would prevent you from entering the pool?" "No, I do not have such a document. And where do I get it?" "Not today, you don't. The doctor is not in his office today." "And if you get a clean bill of health from the doctor, will you issue me with the card?" "Yes, with a photograph. Do you have one with you?" "No, I don't have." "And could you, just for once issue the card without a photograph?" "Of course not." Hans was curious and asked the man what happened when the card was OK and provided with all the necessities. "If the card is OK, then you have come close to the water but you are still not in it," was the reply. "Well, yes, I must pay the fee," Richard said. "Yes, that is inevitable but the card must be provided with my signature." "Well, that cannot be such a problem." "This is not a problem but you must show me that you can swim." …