What Comes Naturally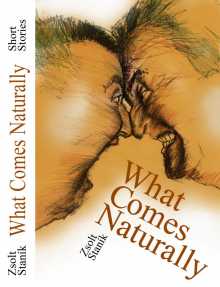 Title:
What Comes Naturally
Author:
Zsolt StanĂ­k

---

Ilustrations and cover:
Zdeněk Netopil
Editor:
Louise Fichtinger
Graphical layout and typeset:
Veronika Jelenová
Publisher:
Zsolt StanĂ­k, Prague
Language:
English
First published:
2008
ISBN:
978-80-904045-0-2
112 pages (printed edition)

---

Price
195 CZK
>> purchase
About the book
This is the first collection of short stories by ZS published in English. It contains 18 humorous short stories which the author responds to the favorite response voiced by readers of the Czech version and to good reviews of several English stories published in magazines.
The stories are drawn from ZS's experience from everyday life, travels abroad. Some are pure fantasy and often show his crazy imagination which will certainly amuse even those readers who keep a straight face.
The collection includes two which are totally different from the others. You never know who is watching is the tragicomic story of a psychologically deranged old age pensioner who lives in an old people's home and I am just a little fly in which ZS presents the life course of the Mediterranean Fruit Fly through the eyes of one little male and one tiny female and describes the parallels between their behavior and that of human beings.
The style is easygoing and simple, suitable as a soothing caress of the soul exhausted by life and work.
Presented below are a few extracts from the book:
1
I waited for the English lady to be seated first. Then as I prepared to sit, I caught the glimpse of a shocked expression on her face. She screamed "eeeeh…" and stood back up rather quickly. The water from the chair had soaked into her trousers!
She asked me what I suggested she do. I came up with two possibilities; the wet clothes that were stuck to her body had to be somehow, either changed or dried. Since I was dealing with a delicate situation for a lady (especially an English lady), I was reluctant to suggest the first option (after all, she did not have extra clothes with her). So I quickly recommended the second option – drying her trousers. My recommendation basically consisted of her eating her lunch standing up with her bottom facing the sun. She quickly rejected this idea, saying that she was not used to eating like that. I immediately followed with another idea – that she take off her trousers and enjoy the lunch in her panties while her trousers dried in the sun. At first, her facial expression implied that she considered me to be some kind of a shameless weirdo. But when she finally said, "OK, let's do it," I realized this was not the case. We wished one another "Bon Appetite", but nothing happened. Then it came to me that she was hesitant to take off her trousers in front of me. As a true gentleman, however, I considered it to be ill mannered to turn my back on her. So I promised her that I would look straight into her eyes the entire time while she rid herself of the wet piece of clothing.
2
Having reached the final stage of undressing with nothing else to take off, Lada slipped under the sheets.
The vast amount of consumed liquids that were putting a lot of pressure on his inner organs made this particular call of nature very "loud". Lada's subconscious was steering the drunken body towards the bathroom. In a brief moment of consciousness, Lada felt so sure about the whereabouts of the longed-for room that he decided to leave the hallway lights off. He reached the bathroom, shut the door, and tried to find a light switch. But the switch could not be found. The reason was quite simple, instead of being in the bathroom, Lada found himself in the hall outside the closed door of his apartment! He started ringing the doorbell of his apartment. But there was no answer.
Lada panicked. His highly intoxicated brain started asking questions such as, "Am I ringing my own apartment doorbell?" "Whose doorbell did I ring?" Suddenly it flashed through his mind, "the location of the apartment is right, but I might be on the wrong floor!" He made an attempt to read the nametag on the door, but was not successful because his much-needed glasses (resembling a magnifying glass) were left on his night table. Lada was lost with no any idea of his whereabouts. Being in his "birthday suit", the possibility of asking the next-door neighbours was not feasible. Due to the increasing pressure exerted by the consumed beverages on Lada's body, he needed quickly, to come up with a solution to his problem.
He called the elevator… After he got off the elevator, he started stumbling towards the door of what he was sure was his apartment. Lada rang the doorbell once, twice, and with the third ring the door flew open. A lady in a nightgown was standing in the doorway, just as Lada hoped. Unfortunately, it was not his wife!
3
While standing in line for my beer, I kept my eye on the table with my food. I was just about to get my longed-for beverage when a small, dirty, old bum slowly came up to my table. First he looked around and then he took a bite from one of my frankfurters. Unfortunately for him, however, he did not have enough time for another bite. Another "distinguished guest" quickly came up to my table and based on the size of the second man, the older fellow had no chance of keeping the franks for himself. For the second time, the frankfurters had a new master.
Having paid for my beverage, I hurried to my table to let the frankfurter thief know what I thought of him. But before I managed to open my mouth, he said, "Good afternoon, Professor, it is amazing how bad crime is these days. People steal like there is no tomorrow." He was going to continue, but a piece of my frankfurter got stuck in his throat and he started to cough. "Come on, you cannot just…" I tried to reply. But before I had finished my sentence, he jumped right back in saying, "Sir, I know what you are trying to say." It is unbelievable that you are in a hurry and that shameless and dirty creature tried to eat your food….
4
Jean Lefebre, an extravagant Parisian painter. He lived in a vast studio in the loft of a large nine-storey building, in Paris. The layout of the studio was as peculiar as its owner and consisted of a large hall and tiny auxiliary rooms e.g., bedrooms, a kitchen, a toilet, a bathroom and a walk-in closet. The ceiling of the large hall was fully glazed, which gave Jean the impression of living in the open air: the sun, clouds and sky above and green grass under foot. Yes, lush green grass covered three quarters of the floor area of the studio. The floor was insulated, covered in earth and a computer controlled drainage system, which not only irrigated the grass but also supplied it with nourishment. It was intentionally full of weeds – goodies like dandelions, clover and the like. The system was by no means cheap. But his love of rabbits outweighed the costs. During the day it was inhabited by six lovely rabbits, named after his girlfriends, regardless of the sex of his lovely pets. "I could", Jean argued, "have a large rabbit farm if I were to use the names of all my girl-friends". At that time there was Simone, Denise, Margarette, Tereze, Claudette and Antoinette. They all had enough to nibble, a free range to hop about in during the daytime and a cosy bedroom in one of the closets.
Jean also loved to work to the tones of music, namely American jazz from the 1920´s. He believed his pets, especially his favourite Denise, loved this kind of soothing music. He would simply do anything to make the lives of his pets as pleasant as possible. He wanted his rabbits to eat like kings in an environment fit for royalty. And to achieve this he would do anything.
One fine, bright morning he looked down and lo and behold, just below him on the balcony of the eighth floor, he saw that his neighbour, Anne-Marie had a kitchen garden. Meaning, not only flowers, but also exceptional goodies to eat, such as lettuce, peas and beans. What a feast for my beloved pets, Jean thought. And then he designed a plan, one that would naturally, only work in the absence of Anne-Marie. On that very day Jean went into action, shopping for a long rope and baby safety straps with tiny panties, size Rabbit. When he got back he meticulously put together a fitting rabbit suit with openings for rabbit legs. "Now my darlings you will do something no rabbit has ever done before. And it will not take long and it will be beyond anything any rabbit has ever dreamt of," said Jean. And he ran downstairs to find out whether or not Anne-Marie was home. He rang the doorbell but no one answered, so he decided to start the experiment immediately. He ran upstairs took Simone, dressed her up in the safety straps and slowly but surely let her down on the rope. Safely on the 8th floor balcony, Simone headed straight for the lettuce. Jean gave her some time to feed and then pulled her up. The other four followed suit with Denise, the favourite, being lowered down to the finest vegetables. He had no intention of devastating the vegetable garden below…